ABOUT PUNK HOSTAGE PRESS
Punk Hostage Press was founded in 2012 by L.A. Punk Rock icon Iris Berry and Poet A. Razor. Punk Hostage combines the experience that both writers have garnered from years of marginal living, punk rock music scenes, D.I.Y. publishing, editing underground lit/art zines, doing spoken word performances in local settings as well as on the road, living out vehicles and going homeless for the craft when the demand was too much over the years. Punk Hostage has garnered a strong following with the publication of such respected and diverse authors/poets as Jack Grisham (lead singer of T.S.O.L.), Rich Ferguson (L.A. Spoken Word Artist), S.A. Griffin (co-editor of The Outlaw Bible of American Poetry), Pleasant Gehman (punk rock queen/showgirl/bellydancing princess) and many more.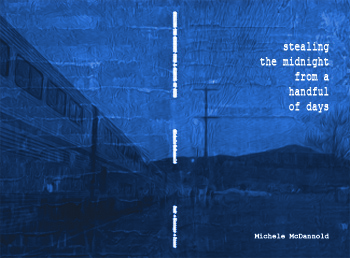 For interviews, review copy requests, or any other questions please contact Michele McDannold at mm@theliteraryunderground.org.
BLURBS
So much poetry..classic poetry, academic poetry, award winning poetry, small press poetry…is pure shit. I read it and dismiss it and it leaves my brain, thankfully. Michele McDannold's poetry is not shit. It does not leave my brain, thankfully. I am constipated with Michele McDannold's lines and I am very glad. Here's to the ones who are not cool, who don't try to be cool, who just write their fucking truth line by fucking line in syllables that sing to the sky. –Misti Rainwater-Lites
In Stealing the Midnight from a Handful of Days Michele McDannold has a voice that is projected calm, level, perfectly clear, which is remarkable because all around her, there are bombs going off. This is poetry lifting the veil on the fairytale, exposing the odd beauty of life's grime and grim character. –Bud Smith, editor at Uno Kudo
Michele McDannold does not waste a lot of time with fancy metaphors and pretty literary things. She builds straight to the punch, and she doesn't hit like a girl. This is poetry as it should be. Not covered up and shrouded in riddles. Not poeticizing about flowers and Spring.This is truth. This is a punch straight to the gut. –Michael Grover
Stealing the Midnight from a Handful of Days is the kind of perfect art that should be read aloud over a Walmart PA system as it begins to burn down. –Bud Smith, author of Tollbooth
Michy McDannold is a great writer from the Land of Lincoln. Her words are poignant, sad, happy, insightful, and full of emotion. Most important they make you think and they stick with you like biscuits and gravy. When I read her poems I feel her love and I'm glad I had the pleasure of meeting and reading with her in person. Michele's energy is what drives the small press and keeps it alive and vibrant. I recommend you buy her book, all you cheapskate motherfuckers." –Catfish McDaris
Michele McDannold writes poems that are not just suited for drinking a six pack of beer, but to eat the glass bottles afterwards. Powerful stuff to say the least. Stealing the Midnight from a Handful of Days creates twisters, knocks towns down. Yes, please." Bud Smith, poet
talk to me

as i lay me down to sleep i pray the lord
my soul to keep if i die before i wake i pray
the lord my soul to take my soul to take my soul

talk to me whisper in my ears words i can't possibly understand
sing all night as we speed from springfield to las vegas do your
patti smith poet punk fuck you scream in dutch to telephone
poles mowing them down with electric guitar never more than
four chords as we plummet south talk to me whisper in
my ears words i can't possibly understand sing all night
as we speed from las vegas to hollywood do your michele mcdannold
stealing the midnight from a handful of days punk hostage press
fuck you scream in arabic to telephone poles
mowing them down with electric guitar never more
than four chords as we plummet south talk to me talk to me
whisper in my ears talk to me whisper whisper whisper

–Ron Whitehead, outlaw poet
Who the fuck does Bud Smith think he is, anyway? –Michele McDannold, blurbs are weird