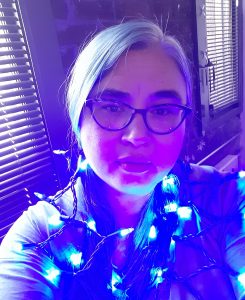 Michele McDannold has organized poetry events and/or performed poetry with a bunch of unabashed free-thinkers across this great United States, most happily by roadtrip but sometimes by plane, train or coincidence.  She spends most of her time producing and publishing books, when she's not out killing miles with her magical jeep.
---
Michele was the Editor-in-Chief at Red Fez Publications for over five years. She is the founder of The Literary Underground, a grassroots effort committed to supporting independent artists, promoting diversity in creativity and fostering community in the small press. Michele is currently the editor/publisher for Citizens For Decent Literature Press, actively working on the "This Is Poetry" project and proud as hell to have published the book of poetry Random Acts of Terror by Luis Rivas. Punk Hostage Press released Michele's first full-length collection of poetry, Stealing the Midnight from a Handful of Days in 2014. Cocklebur Press released the chapbook Point of Departure in 2018 and SpaceTime Continuum for Dummies was released from Gutter Snob Books. Roadside Press released her most recent full-length collection By Train, Plane or Coincidence.
Michele was born in Jacksonville, Illinois and grew up in the nearby village of Meredosia, population nevermore than 1200. She has lived in west central Illinois most of her life. Michele started writing poetry in grade school and maintained a connection with writing as an occasional pastime and coping mechanism. It was not until her early thirties that she began pursuing her poetry seriously and seeking publication. Since then, her poetry has been published in a wide range of print and online publications and anthologies.
Her writing style is self-taught, developing over time and life experience, aided by a sick love for books. Her poetry tends toward the narrative–daily and life observations told in colloquial speech. Her perspective comes from that of a marginalized artist struggling with poverty, mental illness, motherhood and society's expectations of a woman and wife living in a small Midwestern town.
Michele is a full-time student in the school of the motherfucking underground and does a massive amount of hustle to keep the dream alive.